CWDM
CWDM PRODUCT FAMILY
Cellco Communications offers a wide range of CWDM products such as multiplexers, demultiplexers and add drop modules. Each device is prepared to meet all customer's demands and needs.
The chart below depicts the CWDM modules package possibilities according to shape, volume and application density.
application density.
CONFIGURATION TABLE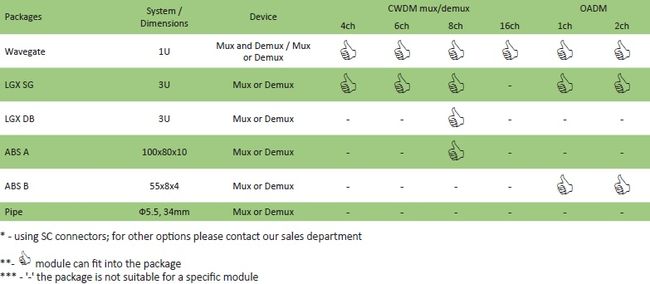 WAVEGATE PACKAGE

- 1U, 19" package solution, for mux/dmux and oad applications- possibility of placing both mux and dmux in one package- used for high density applications- default place for upgrade and monitor ports- easy access- easy management- easy management- easy management
LGX PACKAGE

- 3U package solution- two types available: SG (single) and DB (double)- modularity- compatible with Aurora LGX system- wide range of reconfiguration possibilities- available with frames 1U, 2U and 3U- wide range front adapter panels
| | |
| --- | --- |
| ABS PACKAGE- small, compact dimensions- space saving- wide range of installation possibilties (e.g. in hermetic closure)- different fiber lengths- made from material with high mechanical resistance | |
PIPE PACKAGE
PIPE PACKAGE

- small dimensions, low weight- space saving- wide range of installation possibilties- different fiber lengths
| | |
| --- | --- |
| | CWDM TECHNOLOGY |
Coarse Wavelength Division Multiplexing (CWDM) is a technology which multiplexes a number of optical carrier signals onto a single optical fiber. It is reliable and effective solution that can increase the capacity and reach of existing passive optical network. CWDM can be applied in many diverse applications.
It is becoming an important transport architecture due to its main features: lower power dissipation (due to deploying uncooled DFB lasers), smaller size and low cost. CWDM technology involves using a multiplexer to combine wavelengths travelling on different fibers into a single fiber. At the receiver end of the link, a demultiplexer separates the wavelengths and routes them int o different fibers, which all terminate at separate receivers.

| | |
| --- | --- |
| | As defined in ITU-T G.694.2 and ITU-T G.695, the main characteristic of CWDM transmission is the 20nm spacing between channels, which enables up to 18 channels over the entire transmission band (for example 1271 – 1611nm). |
| | |
TESTS
Cellco Communications obtains equipment for CWDM testing.
Example of test of 8 channel CWDM mux with G.652D fibers. Source: Cellco Labs.
Catalogue of products
News:
NEPTUN 3U 8X and 12X patchpanel
NEPTUN 3U is a 19" patchpanel designed for easy organization of optical fibers, thanks to the use of modular cassettes.
more >>